As seen in our newsletter
Toni Graham, PA-C
 Our spotlight is on Toni Graham, a certified Physician Assistant who has touched the lives of countless patients in southern West Virginia and who has been a longtime advocate for Physician Assistants and our state organization.
Toni was introduced to the PA profession in 1970.  Her father had been a World War II medic and her neighbor was a Vietnam veteran, who worked for a Charleston ENT group as a first assistant, despite his only background being a battlefield medic.  Her mother, a well-read woman who had heard about the Physician Assistant career from Dr. Jim Daddysman, first suggested the career to Toni.  Although the death of Toni's father in her senior year of high school cast doubt on the likelihood of her attending college, her parents had always been adamant that having a college degree would lead to a brighter future.
Ultimately, Toni attended the PA Program at Alderson-Broaddus University due to a generous scholarship.  She was in the 4th cohort entering in 1971 and was in the first class that accepted only a few students with a high school education and no experience.  Their class of 32 included 23 men and 9 women. One-third of the class had been medical corpsmen in Vietnam, one-third had some prior medical experience such as serving as an OR/ER technician or nursing aide, and one-third of the class had no experience at all.
Toni admits to feeling intimidated by the ex-medics in her cohort at first, but states that together the students bonded as they faced the uncertainty of their own abilities as well as the uncertainty of the newly formed PA profession.  Her first experience testifying before a state legislative committee came in 1976, during a hearing regarding proposed regulations to prohibit PAs from looking into an orfice.
Toni's first job was in family practice with Dr. Margaret Staggers (Wells), before returning to Alderson-Broaddus for a year of a post-graduate rotating internship and teaching as an instructor in the PA program.  In 1978, Toni was recruited by Craig Robinson, an organizer for rural clinics promoted by the UMWA.  She worked with Dr. Daniel Doyle in a renovated garage that would eventually become New River Health Association.
As one of only a handful of Physician Assistants in southern West Virginia, and as a rural health practitioner, Toni soon realized the need for prescriptive privileges for PAs in the state. In 1982, she represented the WVAPA in Washington DC before the American Academy of Physician Assistants board.  She convinced the AAPA to grant $5,000 to WVAPA to help develop legislation for prescriptive privileges.  Under the guidance of WVAPA President Tom Harward, Toni and her fellow PA Laura Miller registered to be lobbyists.  Through their successful lobbying (sometimes with their children in tow), the PA prescriptive privileges bill passed and was signed into law in 1983 by Governor John D. Rockefeller.
As New River Health Association grew, Toni began doing more Women's Health duties.  This led to her work with Dr. Marcia Khalil, a solo-practice OB/GYN physician, in 1987.  Together, Toni and Dr. Khalil joined a larger OB/GYN practice in 2001, which later became part of the Access Health organization. Toni states that her background in primary care and prevention served as a mainstay in her patient care.  Well visits were always an opportunity to review the patient's general medical care, and reinforce the importance of self-education.  Many of Toni's patients didn't have a primary care provider, so it was common for her to uncover serious issues that needed further evaluation.  She also relates that she always enjoyed seeing families—after 44 years of practice, it was not unusual for her to see a patient whose grandparents were young when she first met them.
Since retiring from active clinical practice in March 2019, Toni has enjoyed time with her children and grandchildren, as well as catching up on some long-overdue home projects, travelling, and reading.  She states she still enjoys trying to keep up to date with new medical advancements.  Toni expresses sincere gratitude to the educators, mentors, and patients who have all played a role in her long and productive career as a Physician Assistant.  She states that she feels a tremendous sense of pride in the young PAs who are playing an important role in the growth of WVAPA and the PA profession across the country.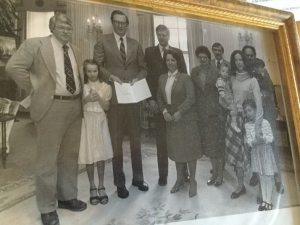 Prescription Privilege Bill Signing – March 1983
L to R:
Tom Harward PA and Daughter Ellie
Governor John D. Rockefeller
WV House Representatives from Barbour County
Dr. Eileen Catterson, Pediatrician from Wyoming Co. and Bill Sponsor
Dr. Paul Bennet, Head of Alderson-Broaddus PA Program
Toni Graham PA and children Nathan and Bevin
David Morse PA and son Peter
We are so thankful to have PAs like Toni, who have helped represent our profession to the public as well as in the legislature! Her long and productive career is a wonderful example for the next generation of PAs to look up to.